Mellanox - World's Best 25G and 100G Ethernet NICs and Switches
As Workflows Accelerate, Move Your Network to 25G and 100G Ethernet
Your workload demands are growing and you need new network speeds to handle the flood of data, but you still have legacy servers and storage running at 1 or 10GbE. You need to upgrade your infrastructure and network while keeping it reliable without spending a fortune. Mellanox Ethernet interconnects including Spectrum Switches, ConnectX Ethernet adapters and LinkX cables provide best-in-class performance and efficiency for your network, making it ready for flash, hyperconverged infrastructure, and software-defined storage at any speed including 1/10/25/40/50/100GbE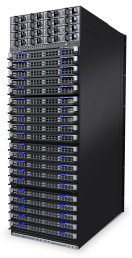 Mellanox Ethernet solutions provide:
Ideal infrastructure for data intensive applications including database, analytics, machine learning & artificial intelligence
Best NIC, switch and cable performance from bandwidth and latency, to efficiency and reliability
Perfect size and port count switches for hyperconverged infrastructure (HCI), compute clusters, and software-defined storage
Hardware offloads to increase server efficiency by freeing CPU resources to run more applications
Efficient connections to servers, storage and switches at 10, 25, 40, 50, or 100GbE speeds
Mellanox Ethernet adapters provide the lowest latency, smartest offloads and lowest power consumption at 10, 25, 40, 50, and 100GbE speeds. Choosing ConnectX 25G and 100G NICs will accelerate performance and free up more CPU cycles to run your critical applications. Mellanox Spectrum Ethernet switches deliver the lowest latency, lowest power consumption, and best resistance to dropped packets, combined with simple management and cost-effective form factors. LinkX cables and modules deliver reliable, cost-effective interconnect solutions at all Ethernet speeds using direct-attached copper (DAC), active optical cables (AOC), and transceivers which are up to 1000X more reliable than standard cables and modules.
Learn how to design a fast, flexible and scalable Ethernet switch fabric with our interactive configurator